Other Grit Removal Systems by S&L
The state-of-the-art PISTA® brand is the most-specified in North America and it has grown to include several spin-offs to meet the various needs of the industry.
S&L Offers a Grit Removal System to Fit Your Specific Application
For Variable Inlet & Outlet Grit Removal System
The PISTA® VIO™ Grit Removal System provides unprecedented application flexibility and superior grit removal efficiencies with a design that allows for full variability of the inlet and outlet channels.
PISTA® VIO™ features a hydraulic vortex grit chamber design that utilizes a new baffle system.
This type of grit removal system —one of the first of its kind in the industry—provides the ability to design the inlet and outlet channels at any variable angle up to the full 360° of the chamber. Designers can flexibly arrange the system to fit existing sites, or maximize space during construction on new sites.
This new baffle system, in addition to providing application flexibility, also offers superior grit removal efficiencies.
Grit Removal in Cold Weather
Further enhancing the world's best grit removal scheme in a environment-protected, factory-assembled package, Smith & Loveless introduces the PISTA® PRO-PAK™. The custom-engineered PISTA® PRO-PAK™ features a factory-assembled PISTA® drive assembly, vacuum priming system and controls mounted to a steel base and housed within a retractable fiberglass enclosure. The drive motor, pump and related components are factory pre-wired and mounted to the base, all to minimize and expedite field installation.
The PISTA® PRO-PAK™ is a cost-saving alternative to a building, while still offering environmental and freeze protection from the coldest of climates. As with all Smith & Loveless products, the patent pending PISTA® PRO-PAK™ delivers the lowest life-cycle costs, is made in the USA, and all the equipment comes housed in an enclosure to provide you with years of dependable service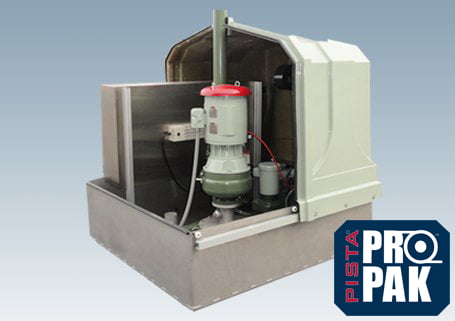 Complete, Skid-Mounted Headworks Package
The PISTA®Works™ is Smith & Loveless's most recent innovation further enhancing the world's best headworks and grit removal scheme all in one package, providing many engineering and cost savings considerations.
The custom-engineered PISTA®Works™ is fully automated with a PLC-based control system and equipped with an integrated screening system for solids retention. It includes the PISTA® 360™ Grit Chamber and grit pump for grit removal, PISTA® TURBO™ Grit Washer to produce clean grit to minimize odor caused by putrescible organics. Also included in the package are two platforms for convenient equipment access.